BANGKOK - Thepower generating arm of Thailand's oldest industrial conglomerate, B.Grimm, has partnered with Vietnamese construction company Xuan Cauto develop the largest solar power plant in Southeast Asia at a cost of $420 million.
B.Grimm Power Public CompanyCEO Preeyanart Soontornwata said the deal was inked last week in Bangkok, witnessed by Prime Minister Prayut Chan-o-cha and Vietnamese Premier Nguyen Xuan Phuc.
The 420-megawatt solar power plant will belocated in Tay Ninh, southwestern Vietnam. Commercial operations aredue to startby June next year.
"The project got off to a good start and we are on track to meet the COD (commercial operation date) in June 2019," Preeyanart said.
B.Grimm, which started out in the Thai pharmaceutical business in1878, is now a diversifiedcorporation with interests in energy, building and industrial systems, health care, lifestyle, transport and real estate.
The joint venture recently finalized a deal with a contractor to perform engineering, procurement and construction services for the project, she said.
Talks are underway with several local and international financial institutionsfor project funding, she added.
For B.Grimm Power, a reliable local partner shouldhelp the investment run smoothly.It hopes the Vietnamese solar power venture will contribute significantly to the group's revenue and earnings growth, as Vietnam's power demand rises rapidlyas the economy grows.
The venture is also expected to contribute to B.Grimm's revenues fromoverseas power projects.B.Grimm has set a target for such projects to account for 30% of overall income in 2022, up from 6% currently.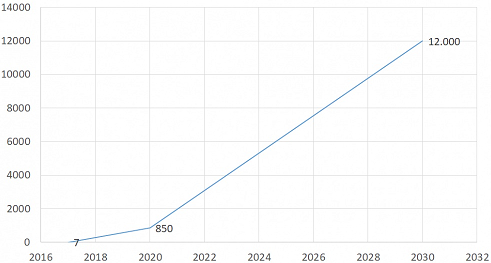 B.Grimm Power has also set a goal to have a total of 53 power projects with total power generating capacity of 2,938 megawattsin2022.
To achieve this, the company needs another 2,000MW from new projects in neighboring countries such as Laos and Vietnam, as well as at home.The Thai government aimsto increase the proportion of renewable power to 30% of total power generation in2036, up from 12% currently.
B.Grimm Power also plans a new renewable power project in South Korea, where it is in talks withstate-owned Korea Electric Power Corporation (KEPCO) to develop a 100MW off-shore wind power project.
B.Grimm Power is initially expected to own a 55% stake in the South Korean wind project, while the remaining45% stake will be held by KEPCO, Preeyanart said.
B.Grimm Power posted a net profit of 722 million baht ($21.9 million) in the first quarter of this year, upfrom622 million baht in the same period last year.
Shares of B.Grimm Power closedat 23.40 baht in late afternoon trading, down 1.68% from the previous day.